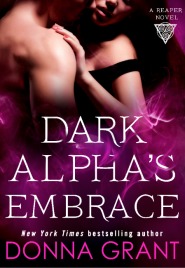 Dark Alpha's Embrace
(Reaper Series, #2)
by Donna Grant
Blurb:
An exclusive new series from New York Times bestselling author Donna Grant!
There's no escaping a Reaper. I'm an elite assassin, part of a brotherhood that only answers to Death. And when Death says your time is up, I'm coming for you...
I'm a warrior. My unbreakable determination, my backbone of steel define me. As a Reaper who does Death's bidding, weakness is a word I don't understand. Until a stunning librarian stirs emotions deep within me I've never felt before. Her soft curves blunt the sharp edges of my soul, crushing my defenses - yet make me stronger. But underneath those wide eyes and fierce femininity, she has a weapon, one she won't hesitate to use. And when the Dark begin their deadly descent, we'll need each other's love and protection...or risk fracturing apart.
Available for purchase at
"Why do you think I've taken such precautions to stay hidden?" River asked. She stood, the book in hand. "You laughed at my clothes before, but believe it or not, they helped."
She watched as Fintan's gaze slowly ran down her body from the sweater that gently hugged her to the jeans that conformed becomingly against her legs. When he looked back into her eyes, she saw desire in his gaze.
"It's not just the clothes," Jordyn said. "It's the hair, the glasses, and the attitude. You were still pretty though few noticed. Dressed are you are now, everyone would be looking."
"Aye," Kyran said.
River's gaze slid to him. She wondered what he thought of her change in clothes. If he desired her, he hid it well—unlike Fintan.
While Fintan said and did whatever he wanted, not caring how it affected others, Kyran was like a caged beast. Waiting for the time he could escape and decimate everything around him.
Why then was it Kyran she found herself attracted to? Why was it him she wanted to look at her as if he could devour her with one kiss? Why was it him that she yearned to have claim her?
She looked for him when he wasn't in the room. She sought him out when he was. How? Why? She managed to stay away from guys after she graduated school in nearly every capacity. Why was this happening now?
"Oh crap," Jordyn said. "I left my laptop in our chamber. I need to get it."
River didn't move as both Jordyn and Baylon left. A moment later, Fintan turned on his heel and walked away. Leaving her alone with Kyran.
He moved around the table and came to stand in front of her. "You've suffered a great deal."
"My family has suffered."
"Aye. Now everything is on your shoulders. It's a heavy burden, but you carry it well."
River turned her head to the side and crossed her arms over her chest. "I don't want it. Nor will I put this on another's shoulders. It will end with me."
"Aye," he whispered.
She looked to find him within inches of her. His red gaze was hooded and focused on her mouth. Her heart skipped a beat when his finger caressed her jaw with the softest of touches.
"It will end," he vowed, his red eyes meeting hers. His head lowered slowly, almost as if he wasn't sure if he should.
River lifted her face, both eager for the kiss and frightened of where it might lead. Then she looked into his eyes. That's when she saw it, there in his gaze.
"You know who's been killing my family."
Reaper #1
Available for purchase at
Donna Grant
is the New York Timesand USA Today bestselling author of the sizzling Dark King series featuring dragons, immortal Highlanders, and the Fae.
She was born and raised in Texas but loves to travel. Her adventures have taken her throughout the United States as well as to Jamaica, Mexico, and Scotland. Growing up on the Texas/Louisiana border, Donna's Cajun side of the family taught her the "spicy" side of life while her Texas roots gave her two-steppin' and bareback riding.
Despite deadlines and voracious reading, Donna still manages to keep up with her two children, four cats, and one long haired Chihuahua.
You can find Donna at
Giveaway
Presented By