---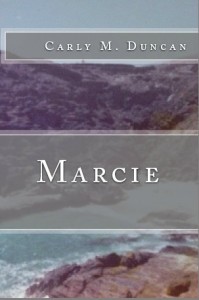 When Kate's mother, Marcie, dies mysteriously, she is forever tormented by the many questions surrounding her mother's death. In Marcie's absence Kate clings to her mother's husbands, searching for solace.
As family secrets are revealed Kate works to build her own life and family, but the mystery of her mother's death sidetracks her until she finally gets the answer she's always hoped for.
Amazon
|
Goodreads
My Review:
Quick and mysterious, Marcie is a good read.
Jumping between the past and present, Kate recounts her last moments with her mother and tries to make sense of the relationships she never had a chance to have. She discovers so much more about her mother after her death and more importantly she finds what she is looking for; the truth of her mothers death.
I liked how Carly described Kate's situations. So full of that "what will happen next" vibe is what I got from reading. Marcie is a good break-time read or when you have an hour to yourself.
Great job on writing Marcie!

About Carly:
Carly Duncan is a television producer by day and a writer whenever there is time. She lives with her husband, two daughters and beloved Westie in Brooklyn, New York.
Follow Carly:
Follow the Tour
a Rafflecopter giveaway